The Mobile App Development market is changing rapidly and is directly influenced by technological advancement, customer expectations, and many other variables.
WeEnggs Technology has identified some of the most discussed latest Mobile Apps Development Trends in 2023-24.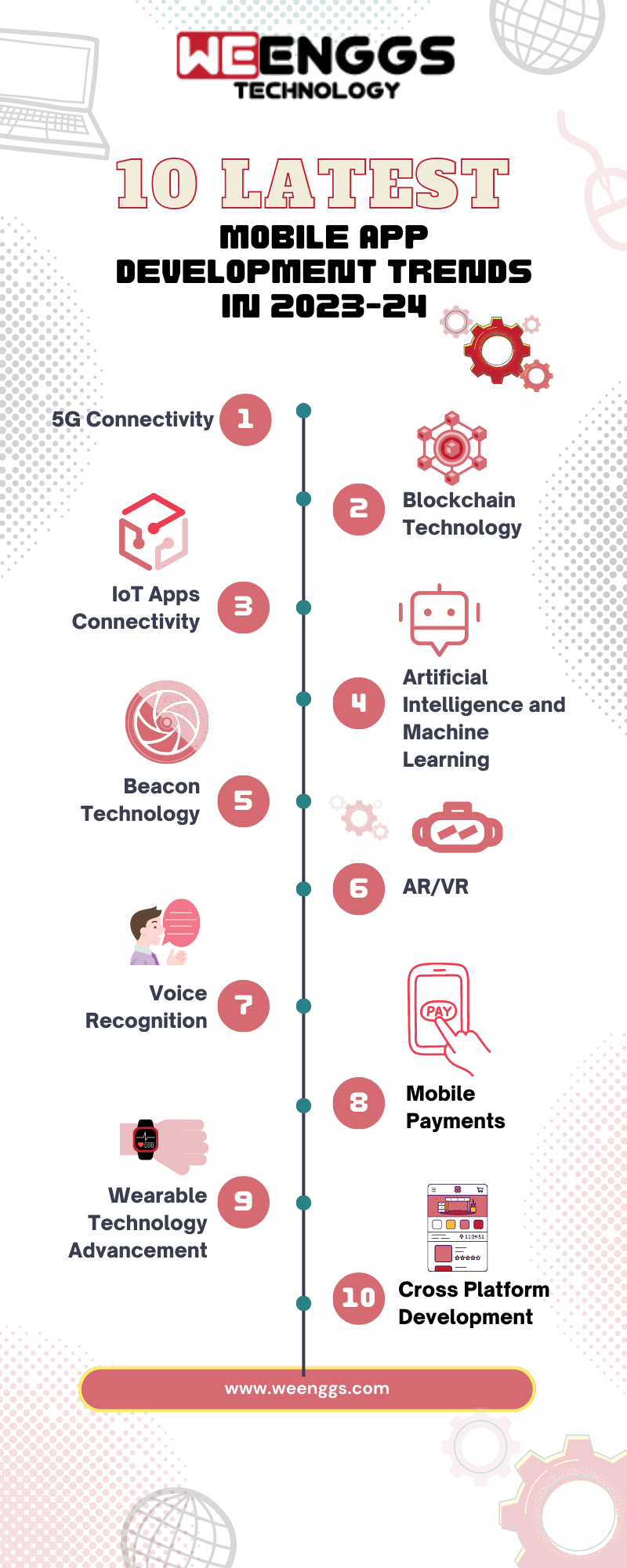 Discover what mobile application development will look like in 2023 so you can fulfill client requests while still being competitive in an industry that is continuously changing.

1. 5G Connectivity:
The rollout of brand-new technology that promises reliable connections, faster network speeds, and lower latency can be one of the greatest booms for Mobile App Development in the year 2023-24. The penetration of this 5G Technology will surely enhance the functionality of mobile apps allowing mobile app developers to update programs with additional features without jeopardizing their functionality
2. Blockchain Technology:
Blockchain Technology and Cryptocurrency are the biggest booms to the Finance industry as they will provide the ultimate security for mobile apps in the future. With the limitless possibilities of this technology, our world will become more connected, smart and secure, and transparent.
3. IoT Apps Connectivity:
The rise of mobile app development into different categories of different sectors has enabled endless opportunities for IoT.
Internet of Things (IoT) is the best way to make human lives better on a daily basis by connecting gadgets to the internet and offering convenient and automated control to users from anywhere.
Smartphone apps can be used to connect to home security systems, lock or open a front door, and change a home's thermostat from a distance.

4. Artificial Intelligence and Machine Learning:
The upcoming trend in AI and ML will eventually change the way apps are developed in the year 2023-24.

With an increase in customer expectations for personalized apps, AI and ML will enable personalized search, chatbot integration, and app authentication with accurate real-time data collection and user behavior analytics. ML can employ analytics to personalize news feeds, provide AI-powered chatbots that are knowledgeable about a customer's past and communication preferences, and identify fraud, dubious activity, and potential data breaches.
5. Beacon Technology:
Beacon Technology is one of the greatest mobile app development blessings, especially for the retail industry. It allows businesses to send notifications and personalized messages to their customer's locations. Further, by gathering information regarding consumer behavior, it can also offer pertinent details on specials, events, and promotions.
6. AR/VR:
Due to the advancement in AR/VR technologies, Mobile apps for different categories such as gaming, entertainment, and live streaming are changing. Consumers expect rich, immersive experiences, and AR/VR technology enables them to try on items, envision themselves on the beach vacation of their dreams, or see how a new sofa would appear in their living room.
Virtual reality is also upending the field of developing mobile applications. In particular, this is true of gaming apps. Phones, applications, and wearables may all communicate with VR technology to improve the gaming experience.
7. Voice Recognition:
Voice recognition technology is one of the fastest-growing trends in mobile apps because it satisfies consumer desire for a quicker reaction time. Customers utilize vocal commands that the gadget understands to perform a function rather than entering a search request. Customers may use the AI-powered Alexa virtual assistant to order anything via the Amazon Alexa smartphone app such as checking whether, playing songs, reading news etc.
8. Mobile Payments:
With the advancement of technology and lifestyle of people, smartphone users are adopting mobile payments and mobile wallets slowly but definitely. On connected wearable gadgets, they're even using app functions for payments.
Over the next few years, mobile money penetration in apps will increase considerably.
App development in 2023 needs to take mobile wallets into account. Any program that handles transactions ought to have wallet integration as a default feature.
9. Wearable Technology Advancements:
The use of wearable electronics is the best trend, especially in the medical and athletic fields. Users may receive messages and notifications conveniently about their health like heartbeats, calories, daily steps etc. via wearables like fitness trackers.
10. Cross-Platform Apps Development:
Cross-platform development allows developers to create mobile apps that can operate on any iOS or Android platform using a single codebase. You can save time and money by just having to code the app once, and you can reach more users with one app that looks and functions the same way on all devices.
WeEnggs Technology has a team of expert developers who can help you develop customized cross-platform apps. We have successfully completed many cross-platform mobile apps.
Conclusion:
In order to be successful and achieve steady growth, it is very necessary to update yourself with constantly changing trends. To effectively serve customers, mobile app resellers must stay current with emerging trends. The same is true for content producers and creators who are prepared to use mobile development to advance their brands.
WeEnggs is one of the best Mobile App Development companies in Surat. We offer a wide range of services including iOS and Android App Development, Custom Web App Development, and Desktop App Development. We are a team of professionals that help you nurture and grow your business!
Develop a customized mobile app for your company. Talk to us at sales@weenggs.com